Design for Excellence (DfX): What can you expect from design services?
Download our guide to learn more.
Launching a product on the market is a complex task with no room for error.

Joining forces with an EMS company, expert in DfX services, will help you industrialize a high-quality product at the best prices. This process consists of 7 major design steps. Safety checks are conducted throughout the process to ensure the feasibility and best quality of your project.
Here is a preview of our guide's content: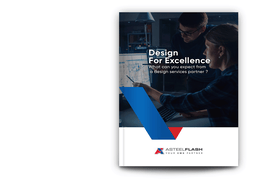 What is Design for Excellence?
What to Expect from an EMS's Design Services?
Is Your Product Ready for Mass Production?
Asteelflash Client Care Services: What you can expect when Working with Us